Whether you're trying to sell your first book or your fortieth, the road to publication is never an easy one to navigate. Let Liberty States Fiction Writers guide your way. A multi-genre organization, the Liberty States Fiction Writers is dedicated to the education and support of all fiction writers. We provide workshops, networking events and promotional opportunities to aid both published and yet-to-be published writers.
Welcome to the Liberty States Fiction Writers!
Join us on Saturday, October 11 at the Edison Public Library for our next meeting:
GEMMA BURGESS
NEW ADULT FICTION: Future Full of Firsts!
NEW:
Having recently come into existence
Having been in a condition for a short time
Made or become fresh
ADULT:
A person who is fully grown or developed
Mature
Of legal age
NEW ADULT:
New beginnings
Future full of "firsts" and decisions
From child to adult: finding yourself
Remember your first college experience? First job?  First apartment?  Remember your first huge life decision?  That first real relationship?  When you're 18-30, life is full of future and adventure, from free-spirited exploration to self-discovery and identity within the world. In college and just afterward as the hunt for a life begins, you face a vast horizon. A scary, winding, wide-open space crisscrossed with multiple paths packed with pitfalls and possibilities. Decisions and choices must be made. Welcome to the real world! You're a newly-minted adult.
What IS New Adult?
The emergence of the New Adult genre has grown from self-publishing success into a mainstream publishing phenomenon in five years.  St. Martin's Press (the publisher that coined the phrase "New Adult" in 2009) author Gemma Burgess will provide us with a proper primer on all things New Adult: how it differs from Young Adult, how it bridges the gap between YA and Adult, why there's a market for New Adult, similarities and differences between New Adult and Chick Lit, how her experiences as a copywriter and a screenwriter contribute to her success as a novelist – and how it pumps up her writing practice, and her journey to publication.
Join Gemma Burgess and Liberty States Fiction Writers for an eye-opening presentation on the sizzling-hot New Adult genre!
---
BIO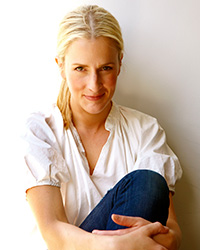 While crafting clever copy in London's advertising world, GEMMA BURGESS landed her first book deal with Harper Collins (The LONDON GIRLS series – A Girl Like You and The Dating Detox). From there, she went on to publish the BROOKLYN GIRLS series (Brooklyn Girls and Love and Chaos) with St Martin's Press.  Besides novel writing, Gemma is also an acclaimed screenwriter. She lives in New York City with her family. Please visit her at: http://gemmaburgess.com
---
ROUNDTABLE:
 TBD
CRITIQUE:
If you'd like to have your first few pages of your latest work-in-progress critiqued by a published author and fellow writers, bring at least five copies of the first three pages. (Pending published author volunteer)
FEATURED AUTHORS:
AM (before the presentation)
Rosie Genova
Teacher by day, novelist by night, national bestselling author (and born and bred Jersey girl) Rosie Genova finds inspiration in two of her greatest passions:  food and the Jersey shore. Rosie's first mystery, Murder and Marinara, was named a Best Cozy of 2013 by Suspense magazine.
Rosie will be selling and signing the first two books in her ITALIAN KITCHEN MYSTERY series:
Murder and Marinara and the newest release, The Wedding Soup Murder.
Rosie also writes women's fiction (romantic comedies inspired by Shakespeare) as Rosemary DiBattista.
For more information about Rosie and her books, please visit:  http://rosiegenova.com
PM (after the presentation)
Gemma Burgess
Novelist and screenwriter Gemma Burgess will be selling and signing the first two books in her BROOKLYN GIRLS series: Brooklyn Girls and Love and Chaos (St. Martin's Press) directly after her presentation. For more information about Gemma and her books, please visit:  http://gemmaburgess.com
---
Author Spotlights
If you are an LSF Writers member with an upcoming release and would like to be a featured author, please e-mail us using the contact form in the Members Only section.
New Releases
As a reminder, if you are a LSF Writer Member and have a 2013 and/or 2014 release, please send your cover and a short book blurb to contact@lsfwriters.com. If you are a Published Author, please send your photo and a short bio to contact@lsfwriters.com so we may prepare our 2012 Author Spotlights.
The Liberty States Fiction Writers welcome pre-published writers at all levels as well as e-published, small press and traditionally published authors.