Whether you're trying to sell your first book or your fortieth, the road to publication is never an easy one to navigate. Let Liberty States Fiction Writers guide your way. A multi-genre organization, the Liberty States Fiction Writers is dedicated to the education and support of all fiction writers. We provide workshops, networking events and promotional opportunities to aid both published and yet-to-be published writers.
Welcome to the Liberty States Fiction Writers!
FEBRUARY 14 LSFW MEETING
WRITING FROM THE REAL: Constructing fiction from facts
Truth is stranger than fiction.
Many times, the facts are so strange, fiction makes them believable.
Join us on Saturday, February 14th at the main branch of the Edison Public Library for:
WRITING FROM THE REAL: Constructing fiction from facts
with crime novelist Alex Segura
As a former crime reporter, Segura knows all about facts: digging them up, sifting through the detritus, and piecing the parts together into a cohesive and concise narrative.
What facts from life – your own, family and friends, and even strangers – can (or should) you use? Even the most innocuous tidbits hold the secret to a plot twist or defining character quirk. How do you mine your reality to construct a riveting story others want to read?  Alex will take you through the process.
While your novel unfolds, there's also the construction of the YOU narrative. Your own story needs to be told in a fascinating way – and no one can tell that as well as you. As a PR expert, Alex will show you how to connect YOUR story to your work in progress.
Alex will also be signing and selling SILENT CITY directly after the presentation.
---
AUTHOR BIO: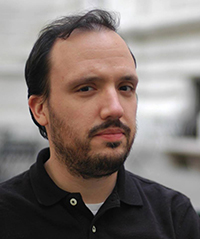 Alex Segura is a novelist and comic book writer. He is the author of the Miami noir novel SILENT CITY and the best-selling and critically acclaimed ARCHIE MEETS KISS storyline and graphic novel, among others. He lives in New York with his wife and two cats. He is a Miami native. Visit Alex at www.alexsegura.com.
---
FEATURED AUTHOR
A.M.
K.M. Fawcett will be signing/selling CAPTIVE and FEARLESS, the first two books in her thrilling sci-fi romance series, The Survival Race. She enjoys stories filled with adventure and strong, kick-butt heroes and heroines. Ranked 4th degree black belt in Isshinryu Karate and 3rd degree in Ryukonkai (Okinawan weapons), K.M. and her husband own a karate dojo in NJ. When not writing sci-fi & paranormal romances or working out at the dojo, K.M. is driving her children to drum lessons and ballet classes. Please visit her on Facebook, Twitter, and at www.kmfawcett.com to be the first to hear about her new books or to find out if she accidentally drops off her drummer boy at ballet class.
P.M.
Speaker Alex Segura will be signing and selling his Miami noir novel, SILENT CITY after the presentation.
---
ROUNDTABLE:
Whether you're indie published, thinking about it, or just plain interested, join Caridad Pineiro for the latest updates, developments, and news in the world of indie publishing!  Visit Caridad at: www.caridad.com.
---
CRITIQUE:
If you'd like to have your first few pages of your latest work-in-progress critiqued by a published author and fellow writers, bring at least five copies of the first three pages. (Critique session pending a published author volunteer)
---
Author Spotlights
If you are an LSF Writers member with an upcoming release and would like to be a featured author, please e-mail us using the contact form in the Members Only section.
New Releases
As a reminder, if you are a LSF Writer Member and have a 2013 and/or 2014 release, please send your cover and a short book blurb to contact@lsfwriters.com. If you are a Published Author, please send your photo and a short bio to contact@lsfwriters.com so we may prepare our 2012 Author Spotlights.
The Liberty States Fiction Writers welcome pre-published writers at all levels as well as e-published, small press and traditionally published authors.