Whether you're trying to sell your first book or your fortieth, the road to publication is never an easy one to navigate. Let Liberty States Fiction Writers guide your way. A multi-genre organization, the Liberty States Fiction Writers is dedicated to the education and support of all fiction writers. We provide workshops, networking events and promotional opportunities to aid both published and yet-to-be published writers.
Welcome to the Liberty States Fiction Writers!
SATURDAY, SEPTEMBER 12, 2015
PRESENTATION
CREATING SECONDARY CHARACTERS
with author TERE MICHAELS
Join us on Saturday, September 12 at the Main Branch of the Edison Public Library for the workshop CREATING SECONDARY CHARACTERS with author Tere Michaels!
At the end of the day, no matter what the genre or trope, we are all trying to create the best characters possible to tell our story.
Writers spend a lot of time on their main characters – our heroes, our villains. We want them to be unique and memorable, leaping off the pages or screen to grab the reader and pull them into the world.
But ahhh – that world needs to be populated. By names and faces (and the nameless and faceless) who bring forth information, distractions, difficulties, and even just color and commentary. They are the supporting characters, and to forget to give them the attention and depth they deserve is to short-change both yourself and your readers.
We'll talk about your story's population and their roles in the story!
How do you create memorable secondary characters? And … what do you do if your secondary characters demand too much of the spotlight?
If you want to create vibrant secondary characters (who may, eventually, require story of their own), don't miss Tere's presentation (and Q&A) on September 12!
---
FEATURED AUTHORS
A.M.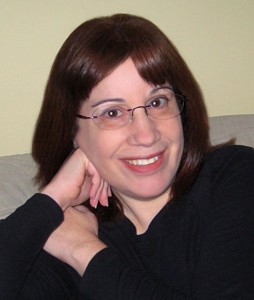 LOIS WINSTON
USA Today bestselling and award-winning author Lois Winston writes mystery, romance, romantic suspense, chick lit, women's fiction, children's chapter books, and non-fiction under her own name and her Emma Carlyle pen name. Kirkus Reviews dubbed her critically acclaimed Anastasia Pollack Crafting Mystery series, "North Jersey's more mature answer to Stephanie Plum." In addition, Lois is an award-winning craft and needlework designer who often draws much of her source material for both her characters and plots from her experiences in the crafts industry and an associate of the Ashley Grayson Literary Agency.
Visit Lois/Emma at www.loiswinston.com and Anastasia at the Killer Crafts & Crafty Killers blog, www.anastasiapollack.blogspot.com. Follow everyone on Tsu At www.tsu.co/loiswinston, on Pinterest at www.pinterest.com/anasleuth, and on Twitter @anasleuth. Sign up for her newsletter at https://www.MyAuthorBiz.com/ENewsletter.php?acct=LW2467152513
Lois will be selling and signing several of her books, including …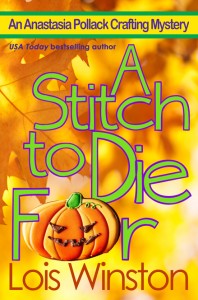 A Stitch to Die For
The adventures of reluctant amateur sleuth Anastasia Pollack continue in A Stitch to Die For, the 5th book in the Anastasia Pollack Crafting Mystery series by USA Today bestselling author Lois Winston.
Ever since her husband died and left her in debt equal to the gross national product of Uzbekistan, magazine crafts editor and reluctant amateur sleuth Anastasia Pollack has stumbled across one dead body after another—but always in work-related settings. When a killer targets the elderly nasty neighbor who lives across the street from her, murder strikes too close to home. Couple that with a series of unsettling events days before Halloween, and Anastasia begins to wonder if someone is sending her a deadly message.
---
P.M.
TERE MICHAELS
Directly after Tere's presentation and Q&A, she'll be signing and selling:
Faith & Fidelity – Book 1 of the Faith, Love, and Devotion series and Who Knows the Storm – Book 1 of The Vigilante series
ABOUT TERE
Tere Michaels unofficially began her writing career at the age of four when she learned – via a Disney magazine subscription – that people got paid to write stories. It seemed the most perfect and logical job in the world and after that, her path was never in question.
Tere's specialties are snark, angst, and happily ever afters. And not so happily ever afters that eventually work out because she is, after all, a romantic – tempered with realism. She has written fifteen books including her popular Faith, Love & Devotion series and the superhero saga The Vigilante.
She is a member of RWA, Rainbow Romance Writers and Liberty States Fiction Writers
For more information about Tere, visit her at:
www.teremichaels.com
https://twitter.com/TereMichaels  (@TereMichaels)
---
Have Questions? Click here to contact us.
---
Author Spotlights
If you are an LSF Writers member with an upcoming release and would like to be a featured author, please e-mail us using the contact form in the Members Only section.
New Releases
As a reminder, if you are a LSF Writer Member and have a 2014 and/or 2015 release, please send your cover and a short book blurb to contact@lsfwriters.com. If you are a Published Author, please send your photo and a short bio to contact@lsfwriters.com so we may prepare our 2015 Author Spotlights.
The Liberty States Fiction Writers welcome pre-published writers at all levels as well as e-published, small press and traditionally published authors.